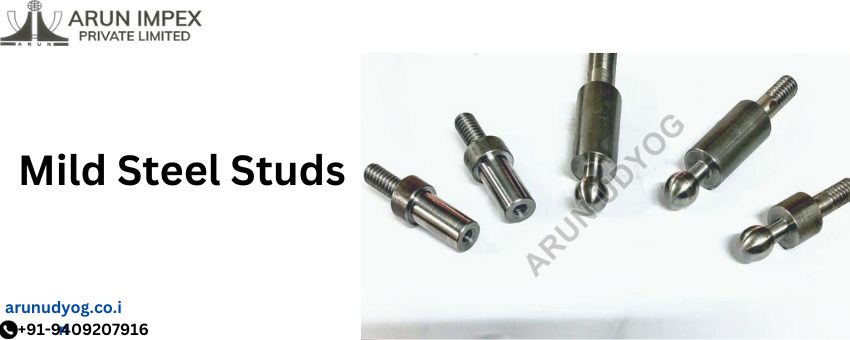 Mild steel boasts lower carbon content that allows the metal to form intricate shapes and enhances feasibility. The construction of a commercial structure requires a stable foundation to guarantee its quality and durability over the long run. Mild metal studs are therefore widely popular choice for construction purpose as they can support weight and is environment-friendly.
Mild steel studs manufacturers often cater to customer demands for mild steel studs when building commercial steel-frames. The USP of using mild steel studs for construction purposes is its availability in varying thickness and size. Given below are a few other advantages of using mild steel studs for building commercial structures.
Cost-effective Price
The top reason that mild steel studs are the preferred choice of builders is their cost-effective price. The lower carbon content within the metal allows its construction within a limited budget. Large commercial structures like skyscrapers, commercial offices, etc. are quite expensive to build. Mild steel studs could help lower the construction cost without compromising on quality or durability. Several mild steel suppliers offer bargain prices for customers with bulk orders online. Customers can also customize mild steel studs as per their construction requirements.
User-Friendly Design
Installation of mild steel stud is also easy making it a user-friendly product. These studs can be easily transported from one place to another and do not require any outside support. The product is very simple to use not requiring complex steps. Easy fabrication of mild steel stud ensures customize the use of the product for specific construction- projects. The tensile strength and rigidity ensure the longevity of the product even after prolonged use. Customers can easily available mild steel studs in jamnagar varying dimensions online from mild steel stud exporters at competitive prices.
Sustainability
The top concern while building a huge commercial structure is its environmental sustainability over the long run. Mild steel studs are a fire-resistant, insect-resistant and eco-friendly product. The product is designed to withstand extreme temperatures owing to its high melting- point. It helps prevent the structure from catching fire.
The mild steel stud is known to withhold changing load making it an ideal choice for the construction of a large steel framework. These are stable and do not wear or shrink even after long usage. Mild steel stud in Jamnagar is renowned for its quality construction and affordable pricing amongst its existing customers. Customers can also avail of special discount prices on bulk purchases. To conclude, mild steel stud offers varying benefits over other types of studs available in the market space. However, it is vital to note that the product should be purchased from a reliable source to guarantee a high-quality product. Run through the product review and customer testimonials before zeroing down your mild steel stud manufacturer or supplier.
The high performance of mild steel studs over other framing materials has resulted in it becoming the preferred choice in the construction industry. These framing materials also reduce the chances of potential construction mishaps in large structures. Mild steel studs are amongst the strongest materials and are widely used in the construction of complex structures like high rises, bridges, etc.